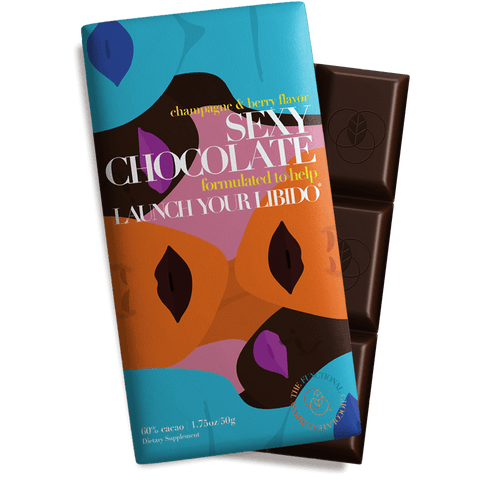 The Functional Chocolate Company
Sexy Chocolate
Natural Champagne & Berry Flavor | 60% Cacao
When you are liberated, you feel free and lost in the moment. All over the place in the best way. Sexy Chocolate™ releases inhibition and unleashes sensuality by pairing a carefully selected blend of botanicals, vitamins, and amino acids with patented LibiFem® (a natural fenugreek extract), clinically shown to help promote feelings of intimacy, healthy female desire and experience.
Pop open this Champagne and Berry bar to enjoy the sweet taste of healthy desire. 
*Libifem® is a registered trademark of Gencor.
Wow! We Can Enjoy

****

Again!

I have never believed in these chocolates until tonight. My husband and I have been struggling for a while with my hormones being out of whack causing my libido to be non-existent. Tonight was the best **** we have had in so long that I think I may cry tears of joy. Thank you for a product that I can trust and actually feel and see results!
Ok
It's ok, tastes good doesn't do what it says