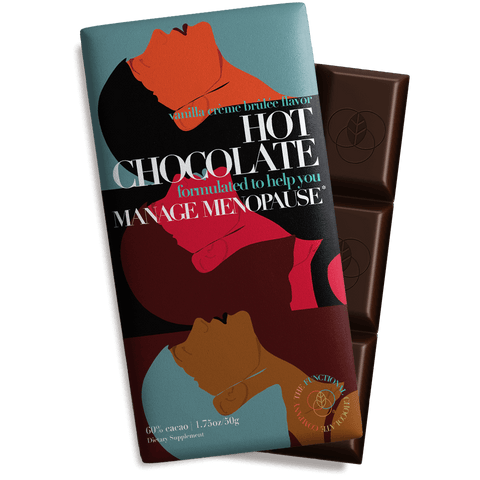 The Functional Chocolate Company
Hot Chocolate
Natural Vanilla Crème Brûlée Flavor | 60% Cacao 
You become more yourself and more beautiful as you age. Each stage of life unveils new directions, new opportunities, new depths of emotions and expressions. Hot Chocolate is a naturally derived formulation featuring a carefully selected blend of botanicals paired with patented Estro-G 100®, clinically shown to reduce hot flashes by 65%, fatigue by 67% and joint aches by 65%, while promoting healthy mood balance, focus, bone density, and energy levels -- all without affecting hormone production. 
Take a moment to indulge in the sweet taste of health with this chocolate crème brûlée treat.
Hot Chocolate reduced my hot flashes!! Genius idea!!
Thank you for creating this for perimenopausal / menopausal woman. It tastes so delicious. What an amazing concept and yummy creme brûlée flavor. I am on some compounded bio identical hormones too, but took a break for the day to try out the chocolate. It actually works!! :) Gonna tell allllllll my girlfriends about it. I Love this chocolate.
Whoever thought of this deserves a Nobel Prize
Meno supplements in chocolate? Genius!
The chocolate is good,. and the supplement helped with my fatigue. Can't afford to take it regularly enough to see if it helps the hot flashes.
They need to make it affordable because if you add up the servings and how much it would be to take it every day as a supplement, it's pricey. About $80 a month. Just not doable for me. I wlll have to take a regular supplement instead.
But man oh man I love this product. If you are someone who can afford it, go for it and have one for me.
Hot Chocolate Really Works
I can't believe I found relief from hot flashes and night sweats in a chocolate bar but I did!