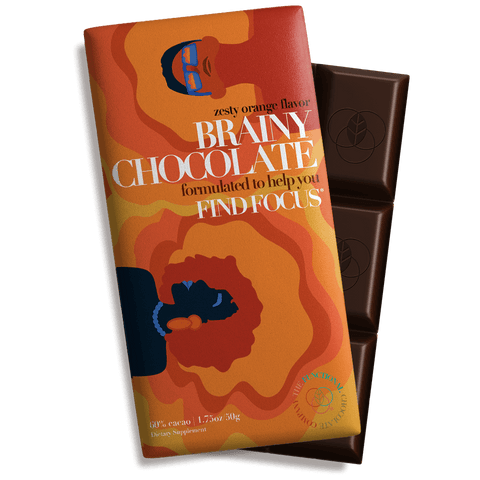 The Functional Chocolate Company
Brainy Chocolate
Zesty Orange Flavor | 60% Cacao
Distractions abound in everyday life, pulling our concentration in countless directions. When you need to get your head back in the game, Brainy Chocolate™ is the solution. With a combination of trusted botanicals including ginkgo biloba, bacopa and rhodiola, paired with a proprietary blend of amino acids, omega 3 fatty acids and Chocamine®, a patented cocoa-based ingredient that may help improve cognitive function, Brainy Chocolate brings you back to center with calm focus.
Get it done with this Zesty Orange Chocolate Bar
These Functions Require Standards

Natural, researched and patented ingredients. That's how we function.

Our chocolate bars are available all over the United States in 750+ stores.

We work directly with small cocoa farms in South America to ensure ethical standards.
Brainy Chocolate
I love this stuff, late afternoon at the office when I start to get a little foggy I have a piece and everything comes back into focus. I also love the Sleepy chocolate for how well it makes me relax and just fade into sleep within 5 or 10 minutes.
Brainy Chocolate
Brainy chocolate is a delicious way to get my brain supplement..