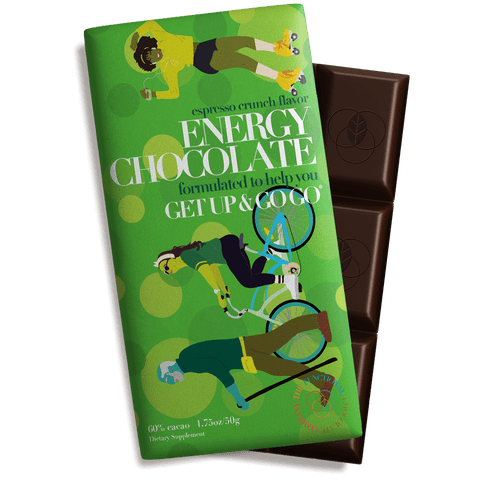 The Functional Chocolate Company
Energy Chocolate
Espresso Crunch Flavor | 60% Cacao
Espresso Crunch Energy Chocolate is designed to lift energy and vitality for when there are too few hours in the day. With a combination of Chocamine®, a patented cocoa-based ingredient shown to provide sustained energy without jitters, alongside a blend of vitamins, taurine, L-Tyrosine, schizandra berry and green tea extract, Energy Chocolate offers a full day boost without the side effects associated with many other types of energy supplements.
Elevate your day with this espresso crunch bar.
My name is natasha and I am a new customer today I got disrespected by a supervisor that supposed to work for the company he got nasty with me over the phone talking about the time difference and something about a personal number which I did not know anything about instead of trying to speak upon the situation in the right way he got nasty and lashed out at me on the phone because wherever he was I guess it was like 6 o'clock in the morning or whatever OK that's understandable how do a customer supposed to know that and when I first signed up for chocolate he was the one who helped me and gave me the number that I called him on this morning so he proceeded to talk to me like I was a child and at that moment I end up canceling my order because I was very uncomfortable it's a way that you talk to people and the way he came at me was very rude and nasty I have not done anything and this came from a supervisor I have not ordered anything since December 5 so today what is my first time even calling not knowing what number it goes to but it didn't matter I didn't have to get talk to like that and that was not my fault that I'm calling on different time frames that's not on the website and even when I first started out I was telling The Supervisor Of The that his number was on Instagram the only reason why I have customers or make money it's because customers buy the chocolate so to talk to them the way you feel like it is not OK and this particular supervisor knows what I'm talking about I cancel my order and I was very uncomfortable the way he treated me on that phone he proceeded to say sorry after he knew he was wrong because I said I recorded the phone call which I did didn't wanna tell me he don't remember what he said on the phone and they try to turn it around to make you go off on someone's energy when you got on the phone agitated this morning when I said hey good morning and before I can even finish he got nasty with me because of the time difference and the personal number that I did not know about so my customer service with this supervisor was very horrible to where I have to cancel my order because nobody deserve to be talked to like that but I mean it causes of a supervisor and if that's how you are Ronja company you're gonna lose a lot of customers I was very respectful and I brought a lot of customers to this chocolate company and to get talk to like that was very disrespectful and because that person is a manager don't give you the right to talk to somebody the way you felt like it is a Way you explain things is a lot of stuff that people don't know so if they don't know you explain it to them not be nasty and rude and that's with this particular supervisor did
Energy Chocolste
Delicious, and gives as much energy as 2 cups of coffee.