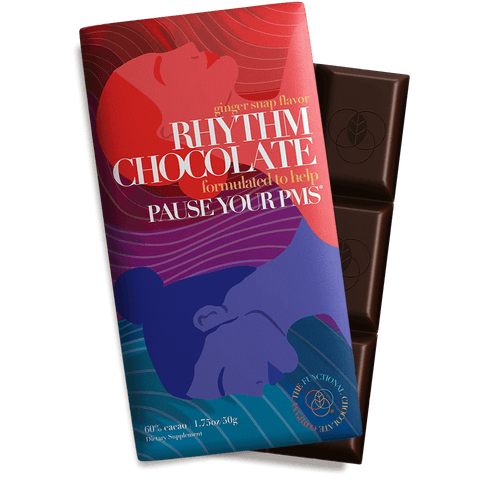 The Functional Chocolate Company
Rhythm Chocolate
Natural Ginger Snap Flavor | 60% Cacao 
Having your balance rudely interrupted by PMS, mood swings, cramps, weight fluctuations and appetite changes is endlessly frustrating. Rhythm Chocolate™ incorporates a carefully selected blend of botanicals and vitamins to help restore harmony, including the patented ingredient, SaffSerene® (featuring saffron flowers grown in Turkey and Morocco) clinically shown to provide a 50% reduction in the severity of PMS symptoms, help support healthy mood, balance and stress levels.
Take a moment to enjoy the sweet taste of health with this chocolate ginger snap treat.
My Grandma gave me this a week ago
Does have a weird taste, but am starting to like it. Not too sweet, but does satisfy sweet craving. I was a little skeptical, but it did work wonders for my cramps. I only had to take one bar. and was pain free for several hours. Will definitely buy again, and try some of their other chocolate bars.
Weird flavor… but I kinda liked it?
Not sure I noticed that it made a difference in my health, but the flavor was ok… weird but it sort of worked.