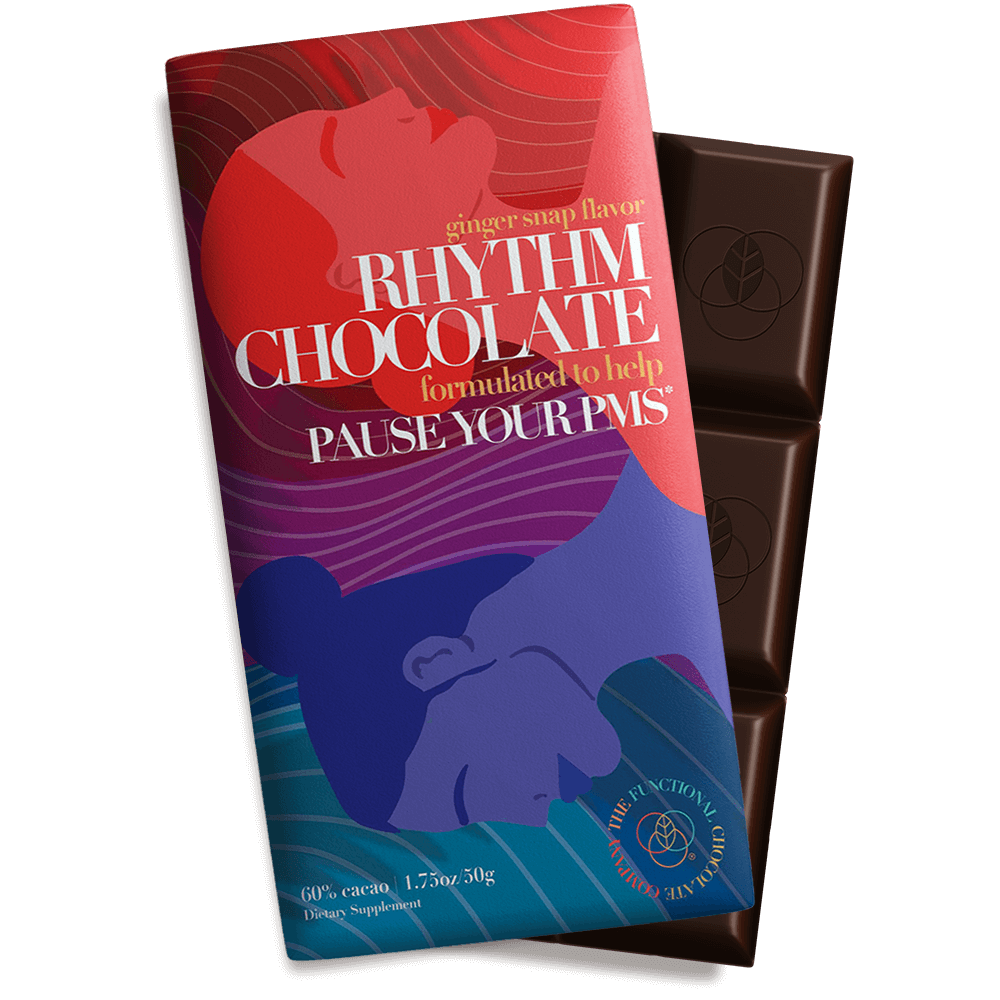 Rhythm Chocolate
Natural Ginger Snap Flavor | 60% Cacao 
Having your balance rudely interrupted by PMS, mood swings, cramps, weight fluctuations and appetite changes is endlessly frustrating. Rhythm Chocolate™ incorporates a carefully selected blend of botanicals and vitamins to help restore harmony, including the patented ingredient, SaffSerene® (featuring saffron flowers grown in Turkey and Morocco) clinically shown to provide a 50% reduction in the severity of PMS symptoms, help support healthy mood, balance and stress levels.
Take a moment to enjoy the sweet taste of health with this chocolate ginger snap treat.
Proprietary PMS Blend

Evening Primrose Oil (10% GLA), Vitex (Chasteberry), Organic High Vitamin D3 Mushroom Powder 10,000 IU/g, Wild Yam Extract, Dong Quai Root Extract (Angelica sinensis), Cramp Bark (Viburnum opulus), Maca (Lepidium meyenii), Cinnamon Bark CO2 Extract, PurGingerTM 2% Gingerols-Organic Ginger Extract, Black Cohosh Extract (Actaea Racemosa Root), SaffSerene® Saffron Extract, PANMOL B-Complex® US150.
A proprietary blend in a base of 60% Cacao Dark Chocolate.

Servings: 3

Serv. size: 2 squares (16.66g)