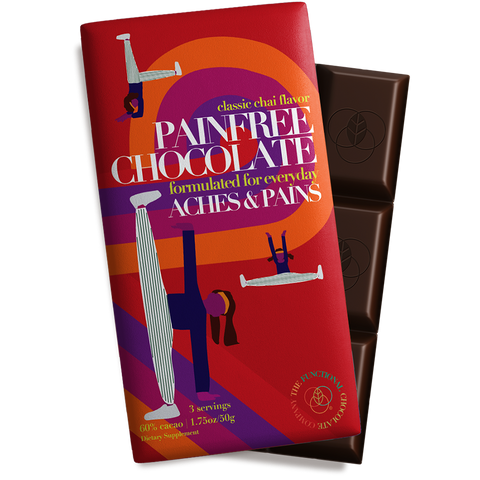 The Functional Chocolate Company
Painfree Chocolate
Classic Chai Flavor | 60% Cacao
Life is full of aches and pains…bumps and bruises. When you're black and blue through and through, reach for Painfree Chocolate.
Loaded with time-tested botanicals like turmeric, boswellia serrata, white willow and arnica teamed with clinically researched benefits of hops, this sweet Chai treat will bend the blues away.
Try our latest sweet addition today!!!
Worked! I was so surprised! Oh my.
Helped after some dental work
I've been having some ongoing dental issues, so I decided to try this instead of popping more advil. I was surprised how well it worked - at least 12 hours without noticing any pain.
Painfree Chocolate
Works great, had mid back pain and shortly after I ate it, didn't even notice it anymore.